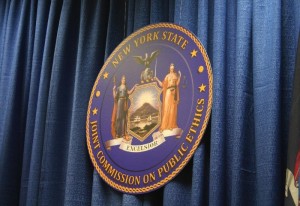 Last Wednesday, Joint Commission on Public Ethics (JCOPE), the state's lobbying regulator, formally proposed the adoption of comprehensive lobbying regulations (Title 19 NYCRR Part 943) in the New York State Register. (Link to JCOPE's Notice of Proposed Rulemaking, on page 10, here).
According to JCOPE:
"Part 943 will provide a "one-stop shop" for information about the rules and requirements associated with lobbying in New York. Designed to close loopholes that have evolved over time, the regulations will capture more and better information about the targets of lobbying activities and the real clients of lobbyists.
The regulations take into account the use of ever-changing technology in conducting lobbying campaigns. They also streamline reporting requirements, providing more clarity about the requirements related to consultants, grassroots lobbying, sources of funding, and the use of new media for lobbying purposes."
While most of what JCOPE is proposing would simply codify existing practices, there are a few new provisions relating to lobbying via social media; reporting of lobbying targets; who must be listed as lobbyists on lobbying reports; and grassroots lobbying.
JCOPE is accepting comments on the proposed regulations through October 16.  Comments should be sent to Carol Quinn, JCOPE's Deputy Director of Lobbying Guidance, 540 Broadway, Albany, NY 12207, or via email.