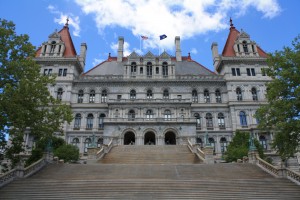 No new ethics or campaign finance reforms were included in the state's recently-enacted budget for 2017-18.
The Governor announced the 35th proposal of his 2017 State of the State, Restoring the Integrity and Accountability of State Government Through Comprehensive Ethics Reform, on January 11th.  (Read my January 2017 blog post detailing what the Governor proposed as part of his Executive budget proposal.)
But the Legislature did not take any action on the ethics and campaign finance reform measures.   Read news coverage from the New York Times ("On Ethics, Cuomo Budget Entered Like a Lion and Emerged Like a Lamb,") Gotham Gazette ("For Cuomo, Ethics Reform Forgotten as Budget Lurches") and NY 1 ("Drain Albany's Swamp").
It is worth noting that at the end of January (after the Governor release his Executive budget proposal) both houses gave "second passage" to a constitutional amendment (A.1749/S.418) that would permit a judge to reduce the public pension of a certain public officials who are convicted of a felony that has a "direct and actual relationship to the performance of the public officer's existing duties."
That measure will appear on the November 2017 general election ballot.  If approved by the public, it will amend the state constitution to allow judges, following a court hearing, to reduce or revoke the public pension of a public officer convicted of a felony related to his or her official duties. Judges would be required to consider the severity of the crime in determining whether to reduce or revoke the officer's public pension. They would also consider whether pension forfeiture would create undue hardship for the convicted officer's spouse, children, and other dependents.
The measure defines public officers to mean elected officials, governor-appointed officials, municipal administrators and managers, heads of government departments, boards, and commissions, state and local chief fiscal officers and treasurers, judges and justices of the unified court system, and employees of the state designated as policymakers.
The amendment would apply to any crimes committed on or after January 1, 2018.