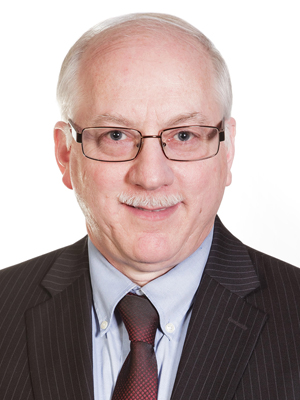 Ralph D. Spaulding is a member of the Firm's Life Insurance department. Mr. Spaulding's practice focuses primarily on compliance matters relating to annuities, life insurance, funding agreements and other financial products offered by life insurers to their retail customers and institutional clients.
Mr. Spaulding has worked on such matters as a regulator for the New York Insurance Department since January 1982. Most recently, he served as a supervising attorney in the Department's Life Bureau responsible for overseeing the policy form approval process and assisting in the coordination of product related matters in market conduct exams. Mr. Spaulding drafted the group life and annuity product outlines on the Department's website and assisted in the development of approval standards for numerous innovative products, including synthetic GICs, guaranteed paid-up deferred annuities (longevity insurance), equity indexed products, variable annuities with guaranteed living benefits and guaranteed separate account products in the pension and COLI/BOLI markets.
Mr. Spaulding also assisted in drafting and critiquing legislation, regulations, circular letters, and Department reports and opinions regarding a wide variety of topics, including equity indexed annuities, funding agreement securitization, STOLI and contingent annuities. He was the principal draftsman of the Department's report on suitability, Municipal Cooperative Health Benefit Plans legislation and the small group health insurance underwriting and rating reforms in Regulation 62.
Mr. Spaulding has been a speaker at numerous conferences conducted by the Association of Insurance Compliance Professionals, Group Annuity / Pension Compliance Association, Life Insurance Council of New York, Society of Financial Examiners, NYS CLE Partnership and Practising Law Institute ("PLI"). His article "Securities Status and Classification of Insurance Products – A New York Product Regulator's Perspective" was published in the PLI's course handbook Securities Products of Insurance Companies in the Face of Regulatory Reform 2010.
Mr. Spaulding received a law degree from Albany Law School of Union University in 1981 and earned the Chartered Life Underwriter (CLU) and Chartered Financial Consultant (ChFC) designations in 1989 and 1990, respectively.
Practice Areas
Education
B.A., State University of New York at Binghamton, 1978; J.D., Albany Law School 1981; Designated Chartered Life Underwriter (CLU) 1989; Designated Chartered Financial Consultant 1990
Bar Admissions
Publications