A team of Hinman Straub professionals helped prepare for the 49th Annual Equinox Thanksgiving Day Community Dinner. This incredible effort provides meals to approximately 10,000 Capital Region residents.
November 20, 2018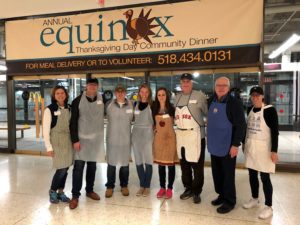 ---
Hinman Straub's BJ Costello Attends Veterans Day Ceremony Aboard the USS Slater to Honor Veterans
November 13, 2018
---
Hinman Straub was a proud sponsor of the 20th anniversary of To Life! at the Pink Ball on October 26, 2018.  Mara Ginsberg is the Founder and President.
November 1, 2018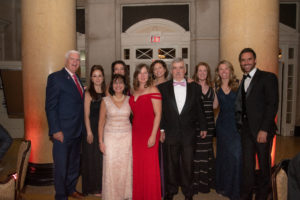 ---
Hinman Straub is proud to be a long standing supporter of @UnitedWay_GCR!
October 4, 2018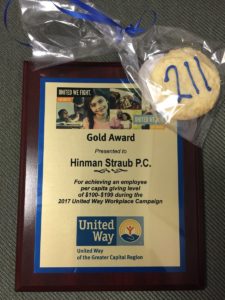 ---
Hinman Straub Gives Thanks By Giving Back
November 21, 2017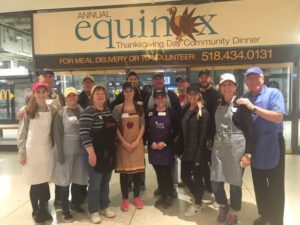 A dozen volunteers from Hinman Straub helped Equinox prepare for the organization's 48th annual Thanksgiving Community Dinner at the Empire State Plaza in Albany.
Equinox serves approximately 500 meals at the First Presbyterian Church in Albany. Additionally, more than 9,500 meals are delivered to those in need who live within 40 miles of Albany.
---
Stephanie Piel Joins The Corporation of St. Catherine's Center for Children
October 17, 2017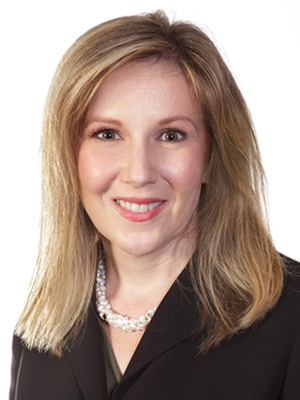 Ms. Piel, a long-standing member of the Firm's Health Law department, has joined The Corporation of St. Catherine's Center for Children. The organization which is headed by Bishop Edward Scharfenberger, advises the board of St. Catherine's Center for Children.
Father David LeFort was also added to the corporation. Father LeFort is Vicar General of the Diocese of Albany and also serves as Administrator of the Cathedral of the Immaculate Conception in Albany.
---
Hinman Straub and Corning Place Communications Push Past the Heat
May 19, 2017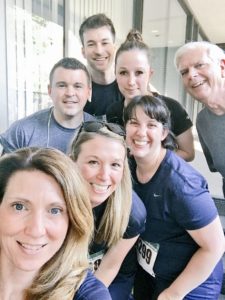 Congratulations to our Hinman Straub/Corning Place Communications team who ran the 3.5 mile CDPHP Workforce Challenge in the 90-degree heat yesterday in Albany.
2017 Team Hinman, from left: Deb Fasser (CPC), Brittany MacCrea, Connor Croston, Jonathan Gillerman Katie Wall, Kerri Tily and BJ Costello
---
Marking 75 Years Since the Pearl Harbor Attacks
December 8, 2016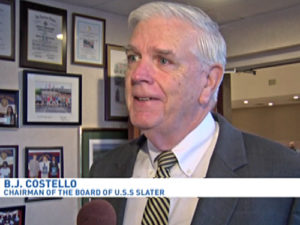 Hinman Straub Principal BJ Costello, who served two tours in Vietnam, joined fellow veterans at the Joseph E. Zaloga Post 1520 on Everett Road in Albany to mark the 75th Anniversary of the attacks at Pearl Harbor. The events propelled the United States into World War II.
Read about it here.
---
A Season of Giving Thanks and Giving Back
November 2016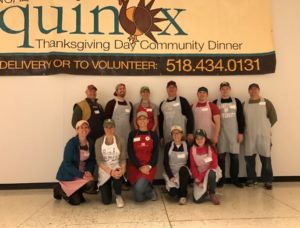 A team of Hinman Straub employees and family members, led by Hinman Straub Government Analyst Terri Crowley, kneeling center, volunteered for the annual Equinox Thanksgiving Day Community Dinner. The team prepped meals in the days leading up to Thanksgiving. Hundreds of volunteers distribute the meals on Thanksgiving annually to people in need.
Equinox provides a variety of human services in the Capitol Region, serving adolescents and adults struggling with chemical dependency; survivors of domestic violence and their children; as well as elderly victims of domestic abuse; adolescents and adults, along with their families, who are living with mental illness and at-risk and homeless young people. Equinox provides access a comprehensive continuum of services.
Crowley is vice-chair of the Equinox Board of Directors.
---
Hinman Straub's Costello Attends a Veterans Day Tribute Aboard the USS Slater in Albany
November 2016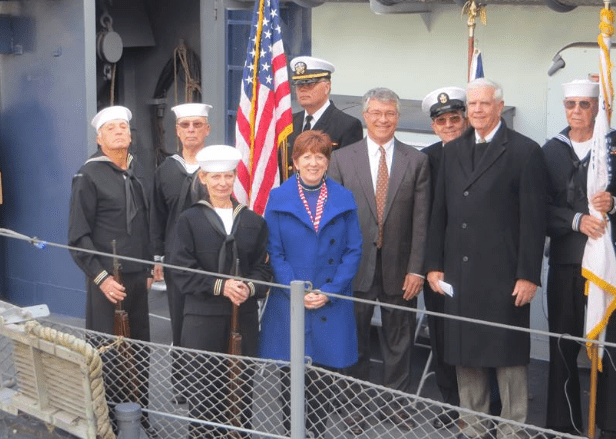 A Veterans Day ceremony honoring past and present members of the U.S. Armed Service was held Nov. 11, 2016, at the USS Slater, which is moored on the Hudson River in Albany. Hinman Straub Principal B.J. Costello III, second from right, presided over the ceremony. He was joined by Albany Mayor Kathy Sheehan, center, and Assemblyman Phil Steck to the mayor's left. Costello is a Navy veteran and chair of the DE Historical Museum (USS Slater).
The USS Slater, a Destroyer Escort, was one of 563 such ships used in World War II. They were often used to battle German U-boats in the North Atlantic and protect convoys of soldiers and materials on their way to and from Europe. Today, only one of these ships remains afloat in the United States, the USS Slater.
---
Janet Silver Named One of New York Law Journal's 2016 Rising Stars
June 2016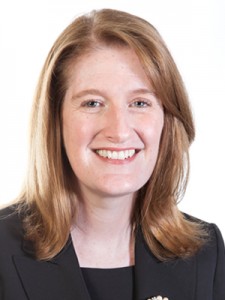 Hinman Straub is proud to announce that Janet Silver has been selected as one of New York Law Journal's Rising Stars for 2016.
Ms. Silver has displayed a commitment to higher learning and advocacy since she came to the firm as a law clerk in 2002, while completing her law degree.
She is an active member of the Albany County Bar Association and has held a number of officer positions. Ms. Silver was the youngest person to serve as bar president in 2015 and rose to the chair of its pro bono committee
Read more here.
---
Carr Elected President of the St. Catherine's Center Board of Directors
January 2016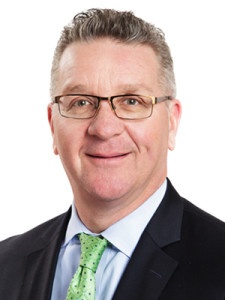 Hinman Straub Government Analyst James J. Carr has been elected to serve as president of the St. Catherine's Center for Children Board of Directors.
St. Catherine's Center has been serving the Capital Region since 1886, offering programs and services that address the challenges our children and families face. St. Catherine's helps families to find answers to many of life's struggles.
Carr is a member of the firm's Education, Health and Government Relations departments. Before joining Hinman Straub, he was president of Carr Public Affairs, Inc., a lobbying, public affairs and association management firm serving clients with interests in education, health care and transportation, and environmental policy. He also has served as legislative analyst in the State Senate's Office of Federal Affairs in Washington, D.C., and as a legislative associate with the State Senate Education Committee.
Carr is also active in a number of community groups, including as a board member of the Albany Roundtable. He is a former trustee of the Guilderland Public Library, the Upper Hudson Library System and is a former board member of Historic Albany Foundation. He is a past president of the Albany County Land Conservancy, and the former chair of the American Diabetes Association Capital District Chapter Board of Directors.
Donald A. Robbins, who is also a member of the firm's Government Relations Department, has served on the St. Catherine's Center Board since 2013. Robbins areas of expertise include health care, human services and mental hygiene. Prior to joining Hinman Straub, Mr. Robbins served as principal legislative coordinator for Health and Human Services on the New York State Assembly program and counsel staff.
---
Employees Make Generous Donation to United Way
December 2015

Employees of Hinman Straub, along with the firm's strategic communications affiliate, Corning Place Communications, again made a major collective donation to the United Way of the Greater Capital Region in their annual holiday fund drive.
This season's drive exceeded the 2014 donation by 36 percent, said B.J. Costello, Hinman Straub principal and former chairman of the United Way of New York State.
"You have made us most proud by exceeding our 2015 goal for the United Way campaign," Costello said to employees. "Your generosity will benefit many families served by local human services agencies."
United Way advances the common good by investing in the building blocks for a good life, including basic needs, education, a stable income, financial security and good health.
To learn more about the United Way of the Greater Capital Region, visit www.unitedwaygcr.org.
---
Serving Those in Need on Thanksgiving
December 2015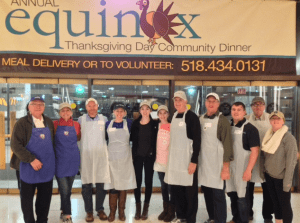 In what has become an annual Thanksgiving tradition, Hinman Straub employees and their families donated their time to help prepare meals for the Equinox Day Community Dinner
Equinox is a nonprofit that provides comprehensive treatment, services, and support to more than 5,000 people each year at 11 locations throughout Albany County. The Thanksgiving dinner is prepared by volunteers and delivered to 10,000 lonely, homebound or homeless people in the Capital Region.
Terri Crowley, a government relations analyst with Hinman Straub Advisors, second from left, serves on the Equinox Board of Directors.
---
Joseph Dougherty Honored by Legal Aid Society
December 2015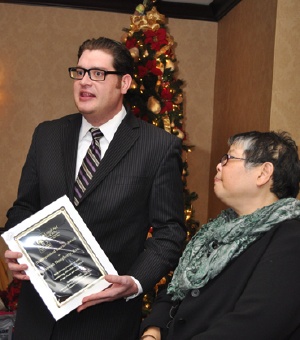 Hinman Straub Principal Joseph Dougherty, left, was honored by the Legal Aid Society of Northeastern New York (LASNNY) for his years of pro-bono legal work on behalf of the service provider.
LASNNY provides free civil legal services and education to low-income people and those with other barriers to accessing the legal system. LASNNY also advocates on behalf of its clients and helps protect and preserve their legal rights while helping to ensure justice, fairness and dignity.
Dougherty is a member of the firm's Labor and Employment and Litigation departments. He represents a wide variety of clients in addressing issues that arise in and out of the workplace.
He has represented clients in administrative matters before the United States Department of Labor, Equal Employment Opportunity Commission, Financial Industry Regulatory Authority, National Labor Relations Board, NYS Division of Human Rights, NYS Department of Labor, NYS Department of Tax and Finance, NYS Retirement System, NYS Public Employment Relations Board, NYS Workers' Compensation Board, NYS Department of Health, state legislature and federal and state courts.
---
B.J. Costello Honored by The Next Step, Inc.
November 2015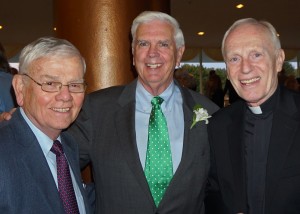 Hinman Straub principal B.J. Costello, center, was honored recently by The Next Step, Inc. for his 20-plus years on the TNS Board of Directors. He was joined by Robert McMahon, left, CEO of Peter Young Housing, Industries and Treatment, and former Albany Roman Catholic Diocese Bishop, Howard Hubbard.
TNS is an addiction treatment center in Albany that provides unique program that empowers women with alcohol and other drug addictions to begin and sustain a life-long process of recovery through an individualized continuum of residential treatment and supportive living services.
During his time of the board, Costello has overseen several important initiatives for the organization, including leading the effort to secure more than $2 million for the purchase and renovation of an Albany home, which became the TNS headquarters in 2010. In addition, he was responsible for work on the programmatic side, including hiring the current executive director, creating and filling the clinical director position, and also securing a vehicle to provide safe transportation for the women in treatment.
---
Janet Silver Becomes Youngest ACBA President
March 2015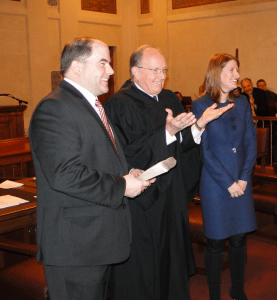 Janet M. Silver, poses with The Hon. Bernard J. "Bud" Malone and Silver's husband, Rob Bischoff, after Judge Malone swore her in as president of the Albany County Bar Association in early 2015. Silver, a Hinman Straub employee since 2003 and a principal since 2008, became the youngest president since the association was founded in 1900.
Silver is very active with the ACBA serving on the association's Court of Appeals Screening Committee. She provides oversight to the association's pro bono programs. Previously, Silver was treasurer, co-chair of the Young Lawyers Committe, and chair of the Committee on Continuing Legal Education and the Committee on Public Policy.
She also is a member of the New York State Bar Association and currently serves as a member to the House of Delegates. She is also a member of the Government Law Center of Albany Law School.
---
Hinman Straub and Corning Place Communications Go the Distance
July 2014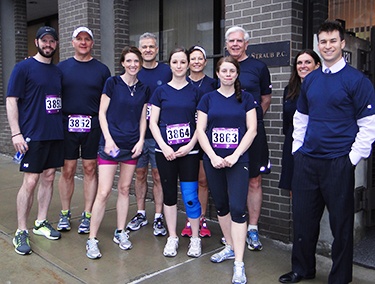 2014 Team Hinman
: From left: Ben Bodner, Jim Carr, Deb Fasser, John Saccocio, Katie Wall, Terri Crowley, Danielle Trimpop, BJ Costello, Caron Crummey and Jonathan Gillerman. Not Pictured: Jonathan Federman, Brian Hodgdon
On Thursday, May 15, Team Hinman and media relations partner Corning Place Communications participated in the annual 2014 CDPHP Workforce Team Challenge.
The 3.5-mile run through the streets of Albany and Washington Park is the largest annual road race between Utica and Albany. Hinman's top runner, John Saccocio, led the team with a 8:04 minute pace and finished the race in 28:12.
Now in its 35th year, the Workforce Challenge drew a record 9,700 runners.
The race was sponsored by the Hudson-Mohawk Road Runners Club (HMRRC) of Albany and Capital District Physicians' Health Plan, Inc. (CDPHP). Proceeds from this year's event go toward Fast Break Fund, Rebuilding Together Saratoga County, Inc., Schenectady Inner City Ministry, and St. Catherine's Center for Children.
---