Albany Times Union: New PTSD treatment a life-changer for vets
The pro-bono efforts of Hinman Straub Principal B.J. Costello is included in this Albany Times Union article about a new advancement in PTSD therapy.
Read the article here: https://www.timesunion.com/local/article/New-PTSD-treatment-a-life-changer-for-vets-13553611.php
Joseph Dougherty Participates in New York State Bar Association Panel Discussion
On Friday, September 12, Joseph Dougherty spoke at a panel discussion titled Cultivating Pro Bono Leaders. The workshop focused on how organization's can promote pro bono participation. Dougherty and other panelists offered specific examples on how to connect with individuals who are interested in pro bono efforts. Other panelists included Sheila A. Hubbard, Esq., Executive Director, Volunteer aLawyers Project, Boston Bar Association and Cheryl M. Zalenski, Esq., Director, Center for Pro Bono, American Bar Association.
---
Hinman Straub Supports New York Civil Air Patrol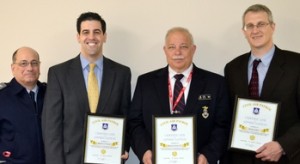 The New York Wing of the Civil Air Patrol (NYCAP) recently thanked Hinman Straub for the firm's pro bono lobbying and government relations representation in Albany.
The Civil Air Patrol (CAP) is a Congressionally chartered, federally supported, non-profit corporation that serves as the official civilian auxiliary of the United States Air Force USAF). CAP is a volunteer organization with an aviation and public service-minded membership. The New York Wing of the Civil Air Patrol has almost 2,600 members in 74 squadrons throughout New York State.
NYCAP performs emergency and non-emergency services at cost for the state and local governments, including , disaster relief, counterdrug, and homeland security missions. NYCAP also has a cadet program for youths 12 to 18 years old, which promotes aviation and aerospace education in the community.
Matthew O'Connor, government analyst at Hinman Straub, and Michael Fallon, Principal at Hinman Straub, are working with NYCAP to develop and advance its government affairs agenda in New York State.
Col. Jack Ozer, wing commander, said the firm provided legal and government relations advice that directly resulted in an improved working relationship with state agencies and elected officials, "New York can now access our volunteer emergency and non-emergency services easily and efficiently, resulting in significant cost savings for such services in New York."
Click here for more information on Matthew O'Connor and Michael Fallon.